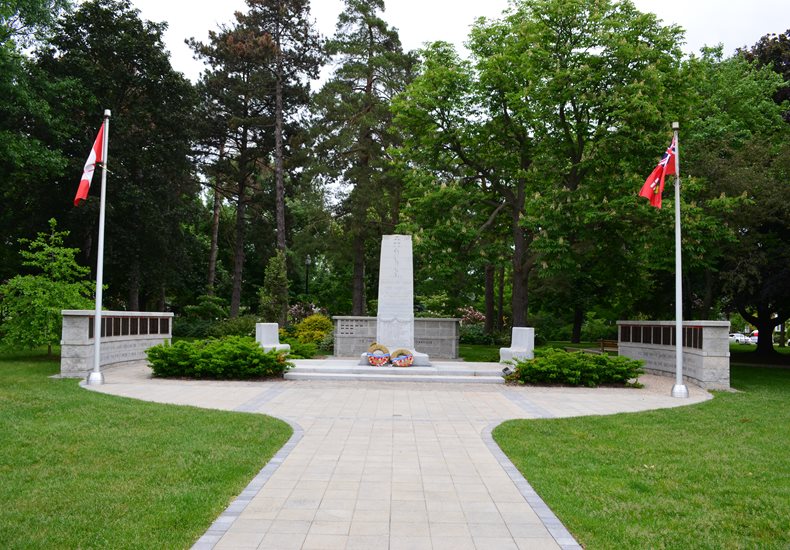 George's Square Veterans' Wall
The Veteran's Wall memorials at George's Square continue Oakville's tradition of honouring and recognizing those who have served their country in active, military conflicts.
Construction of the Veterans' Memorial at George's Square, located on Trafalgar Road at Palmer Avenue, was completed in 2010. The memorial lists the names of those who served in the First and Second World Wars and who resided in Oakville at the time of their enlistment. It consists of two curved walls at the north and south ends of the existing cenotaph, complimented by benches and landscaping. The original monument lists the names of Veterans who died during their service to this country.
A third memorial wall honouring local military Veterans who served Canada since the end of the Second World War was added at a later date. This newest addition to the Veterans' Memorial sits adjacent to the existing cenotaph at George's Square and is intended for those who are not already included in the First and Second World War tributes.
George's Square Memorial honour roll lists
From October to December 2008, the town created honour roll lists of names available to the public to confirm existing details and gather information before the names were permanently attached to the memorial.
The final honour roll lists were updated in 2011:
Trafalgar Township Memorial honour roll lists
During the research of the Oakville Veterans' lists, a number of errors and omissions were found on the previously established lists for the Trafalgar Township Memorial, which includes the names of all Veterans who were residents of the Trafalgar Township at the time of their enlistment. Corrections to the plaques on the Trafalgar Memorial will also be made.
New memorial
For the purposes of this newest memorial wall, a Veteran is defined as a man or woman who was living in Oakville at the time of their enlistment; and a man or woman who has served in, or with, one of the three recognized branches of the Canadian Armed Forces including the Army, Navy or Air Force, during an active armed conflict or operational theatre. Active service members are also eligible, and include those involved in any joint operation coordinated by the United Nations, NATO or similar multi-nation effort such as Afghanistan.
The new memorial wall includes the names of 29 Veterans.
Trafalgar Memorial
The Trafalgar Memorial, located at the east end of Memorial Park, at the corner of Oak Park Blvd and Central Park Drive, recognizes Trafalgar Township veterans who served during World War I, World War II, and the Korean War. The memorial features the names of almost 700 men and women who served their country.
The final comprehensive list of names compiled by the Trafalgar Memorial Committee as well as a boundaries map of Trafalgar Township is available below:
Contact
Janis Olbina
Manager, Park Planning and Development
905-845-6601, ext. 3148