Our firefighters are members of the Oakville Professional Firefighters' Association.
Firefighters always conduct themselves in a professional manner and receive a high degree of public support and respect. You may be an ideal candidate for a career as a professional firefighter if you:
Want to help others and serve your community
Enjoy working as part of a team
Enjoy ongoing learning both in the classroom and on the job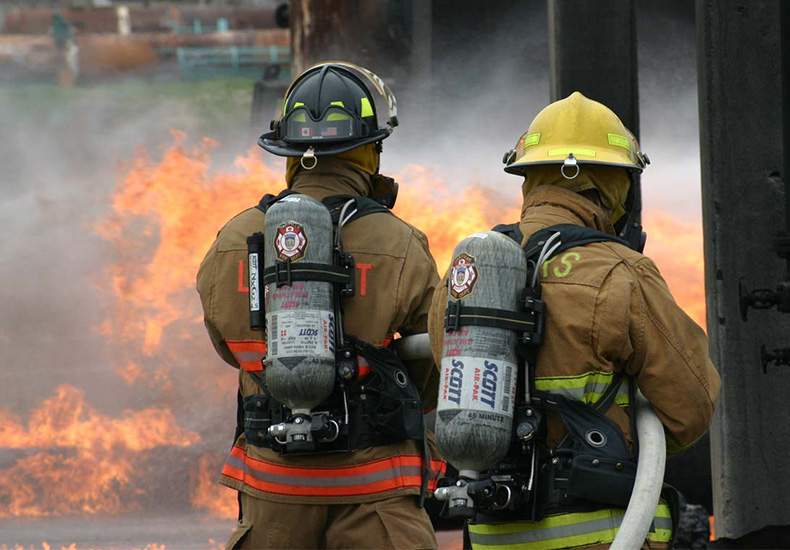 Firefighters are always learning and must keep up-to-date on the latest information and techniques. All probationary firefighters receive extensive training in the latest firefighting and rescue techniques, including:
Handling emergency and medical calls
Hazardous material situations
Fire prevention legislation
Arson investigation techniques
Fire safety programs
The town participates in the Ontario Fire Administration Inc. (OFAI) Candidate Testing Program. Please visit the OFAI website for additional information on the program. If you have questions regarding the Candidate Testing Program, please contact OFAI directly at 905-426-6756 or info@ofai.ca.
Firefighters must be able to handle periods of intense and sustained physical, mental and emotional stress.
Firefighters must work together as members of a well-honed team. Extended periods of time are spent working together, whether in emergency situations or performing duties around the fire station.
Firefighters provide service 24 hours a day, seven days a week.
In Oakville, firefighters work on a rotating 24-hour shift schedule. They work weekends and on holidays. This is not a typical "nine-to-five" job.
Undertake suppression duties necessary to save life and property
Combat, extinguish and/or prevent fires by rapidly and efficiently performing varied duties as required under emergency conditions
Lay and connect hose, hold nozzles and direct high-pressure water streams
Raise, climb and work from ladders
Use and/or operate all equipment associated with fire extinguishment and incident control
Use SCBA and full protective clothing while working in noxious and/or smoke-filled environments
Ventilate buildings or areas to release heat, smoke or fumes
Perform salvage operations to protect property and prevent water damage
Perform overhaul operations to ensure complete fire extinguishment
Provide emergency medical response and aid to injured persons using advanced techniques to restore cardio-pulmonary functions
Perform rescue/extrication operations where necessary
Secure immediate area and transport required medical equipment
Assess situation/victim for medical history, visual and vital signs
Perform appropriate intervention (e.g. first aid, CPR, defibrillation)
Provide assistance to medical personnel (information transfer, lift/carry patients, etc.)
Perform a variety of rescue-related duties to protect the public and lessen severity of injuries, including: auto extrication, confined space entry, water/ice rescue, high angle/rope rescue, HAZMAT response, etc.
Provide service assistance with respect to (but not limited to) police, ambulance, other fire departments and the public
Manage crowd, bystanders, victim's relatives, etc.
Perform general maintenance work in the up-keep of the fire department property including equipment, apparatus, buildings and grounds
Participate in training programs to maintain and upgrade skills, knowledge and proficiency
Participate in public relations projects and perform duties at events for the public including station tours, visits, demonstrations, parades, etc., as assigned
Conduct or assist in training of other fire personnel
Perform inspections and assessments related to fire prevention
Perform other duties related to public education as assigned
Other duties or specialized assignments as assigned