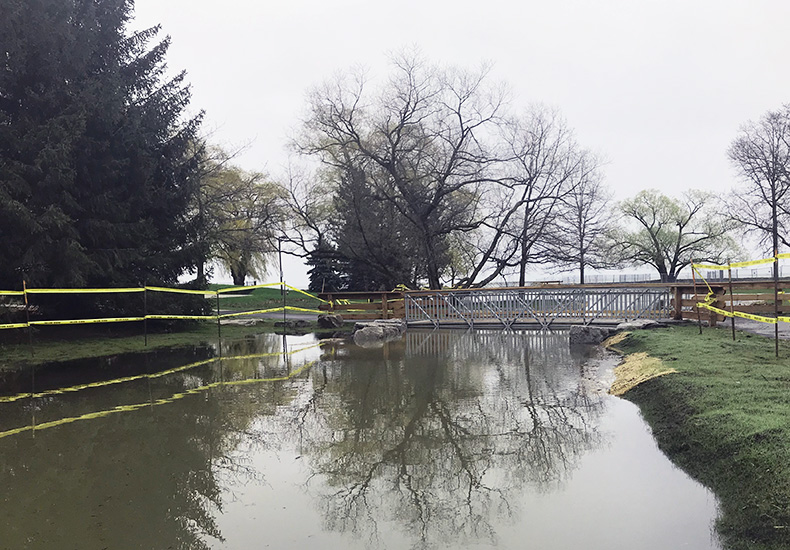 The number of weather-related natural catastrophes in Canada has increased in the last few decades. Damages caused by floods and rainstorms amount to a significant portion of the financial costs associated with these events.
Changes in the intensity, frequency, and duration of precipitation due to climate change have all contributed to this trend.
Reduce the risk of flooding by understanding the types of flooding and, depending on the location of your home, by contacting the regulatory authority for your property.
Stormwater network flooding happens if the amount of rainfall or melting snow is too much for drainage systems to handle. If this happens, storm sewers can backup, roadways and parks fill with water and water may seep into building walls, floors, and back up through sewer pipes.
Design standards for stormwater management in Ontario have evolved over the years. Oakville's stormwater management network is designed to reduce the risk of flooding. However, communities have different design standards and levels of flooding risk depending on when the community was built.
Pre-1970, drainage systems were designed to move rainfall runoff as quickly as possible and focused on flooding of individual developments, but the impacts that resulted from development were generally ignored. As a result, natural drainage systems, such as creeks and lakes were affected by increased flooding, erosion and poorer water quality.
In the late 1970's to early 1980's, a new approach focused on preventing downstream flooding and erosion problems. Stormwater management techniques, such as dry stormwater management ponds, were applied to reduce peak flow discharges from developments.
In the early 1990's, the watershed planning approach emerged, with a key principle being that overall watershed objectives should consider all physical, chemical, and biological criteria that are important to aquatic life and to human health. The use of wet stormwater management ponds became a primary stormwater management technique.
Learn more about stormwater management
Creeks can flood when rain or melting snow causes the creek water levels to rise and spill over its banks into areas next to it. The areas next to the creeks that can be underwater for a period of time are called floodplains.
If you would like to know if your property is next to a floodplain, or if you're considering construction within or next to a floodplain, you should contact to local regulatory authority.
Contact
Properties near the following creeks should contact Conservation Halton at 905-336-1158, ext. 2227 or envserv@hrca.on.ca:
Sheldon Creek
Bronte Creek
Fourteen Mile Creek
McCraney Creek
Taplow and Glen Oaks Creeks
Sixteen Mile Creek
Shannon Creek
Munn's Creek
Morrison and Wedgewood Creeks
Joshua's Creek
Properties near Clearview Creek should contact Credit Valley Conservation at 905-670-1615 or planning@creditvalleyca.ca.
Learn more about Oakville's creek flood mitigation studies
Visit the Environmental Projects & Studies page.
Lake Ontario receives water from precipitation, runoff from the surrounding basin, and water from the Niagara River. Lake Ontario flooding can occur when high water levels from these water sources causes the lake to overflow along the shoreline. In 2017, this is exactly what happened.
From January to June of 2017, the Niagara River swelled to higher than average levels. April and May then had record-breaking precipitation, including rain and snow, in the Lake Ontario basin adding about three quarters of a meter to Lake Ontario through precipitation directly onto the lake surface as well as runoff from the rest of the basin.
Floodwaters along the shores of Lake Ontario closed roads, inundated homes, destroyed break walls and eroded away shoreline. Shore-bound residents watched the lake rise almost a meter above its normal levels.
The Lake Ontario flooding in 2017 resulted in Oakville council having to approve $3.8 million to repair damage to its shoreline and harbours.
If you are considering construction on a shoreline property, check with Conservation Halton at 905-336-1158 ext. 2227 or envserv@hrca.on.ca.
Learn more about shoreline protection
Visit the Shoreline page.