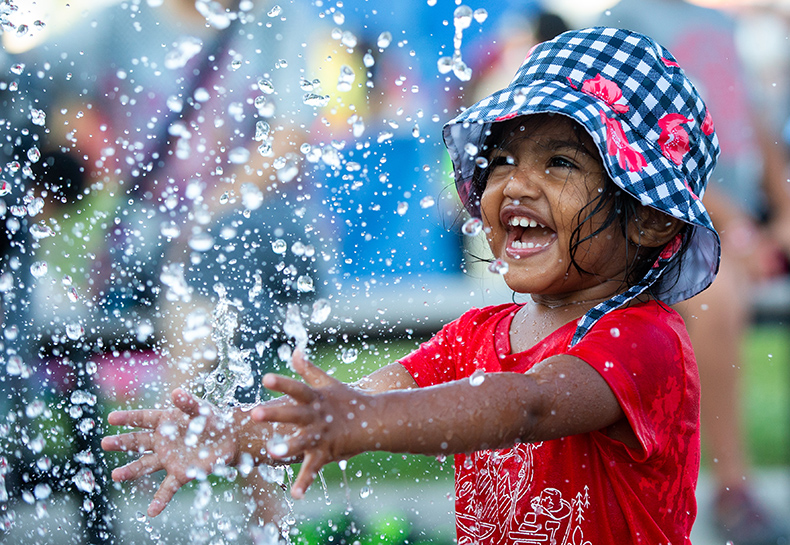 Splash pads are currently closed
Splash pads are located in 21 parks throughout Oakville and provide an opportunity to cool off and have fun on a hot summer day.
All splash pads are currently closed for the season.
Pets are not allowed on the splash pad and playground area.
All children must have adult supervision at all times.
Children under the age of 10 must be accompanied by an adult.
In the event of an emergency, call 911.
Swim diapers are required for all children under 4 years of age.
Swim suits and/or appropriate attire must be worn at all times.
Footwear/sandals are strongly recommended.
No food or beverages of any kind on the splash pad.
No glass containers or breakable objects allowed on the splash pad.
No skateboards, roller blades, bicycles, and/or scooters allowed on the splash pad.
Athletic equipment, balls, bats, beach balls, noodles, etc. are not allowed on the splash pad.
Do not climb, hang, swing or pull on any of the splash pad equipment.
All participants must conduct themselves in a courteous, safe and family-orientated manner.
The splash pad, playground area and/or pavilions cannot be reserved for private parties or functions.
Please don't waste the water. Use water sprays only when required.
Splash pads use fresh water with every use, but because the water is pressurized we don't recommend drinking it.
Splash pads are opened for the season based on weather conditions.
All splash pads have bathroom facilities available (either full bathroom or port-o-let).
Splash pads cannot be booked for private functions, they are a shared park facility for everyone to enjoy.
Users are encouraged to bring reusable or biodegradable containers to the park rather than plastic - if using plastic, please make use of the appropriate recycling container or take them home with you to dispose of in your blue bin.