Visiting our swimming pools
Indoor pools
Outdoor pools (closed for the season)
---
For more information about our indoor and outdoor swimming pools, visit the Pools page.
Single-visit swimming
Individual admission fees:
$3.84 plus tax for seniors (65+) and youth
$4.80 plus tax for adults (18+)
$14.40 plus tax for a group of up to 5 people, including a minimum of one adult (18+)
Valentine's Day swim, skate or sport tickets for ages 2-14 can be redeemed in-person from February 14 to April 30, 2023.
Personal support workers assisting individuals in a program are admitted at no charge and are not required to register. For more information, please speak to a Customer Service Representative at your local recreation and culture facility.
Memberships
10-visit passes, 90-day and annual memberships are also available. Visit the Memberships page for details.
Supervision requirements
Swimmers must meet the requirements of the following admission standards to be granted entrance into any pool:
Stop! Ages 0-6
Children age six and under may not enter the swimming pool unless they are accompanied by a guardian 14 years of age or older.
The guardian is responsible for their direct supervision and must be in the water and able to assist immediately.
Two children per guardian (ages 14+) or up to four children per guardian if all children wear life-jackets.
Caution. Ages 7-9
Children age seven to nine who are non-swimmers must be accompanied by a guardian 14 years of age or older.
The guardian is responsible for their direct supervision and must be in the water and able to assist immediately.
Two children (non-swimmers) per guardian (ages 14+) or up to four children (non-swimmers) per guardian if all children wear life-jackets.
Children age seven to nine who can successfully pass the facility swim test may enter the pool unsupervised. Swimming with a buddy is strongly recommended.
OK! Ages 10+
Children age 10 years or older may enter the pool area unsupervised. Swimming with a buddy is strongly recommended.
---
Swim testing
To successfully pass the Facility Swim Test, individuals must demonstrate comfort in the water and be able to swim on their front for a minimum of two widths of the pool continuously in shallow water.
Deep end admittance
Children who do not pass the swim testing but still want to go into the deep end must wear a lifejacket and be accompanied by a guardian (ages 14+). One guardian may take up to four non-swimmers in lifejackets into the deep end.
Water slide admittance policy
Riders at Iroquois Ridge pool must be a minimum height of 107 centimetres (also recommended that riders can swim the width of the pool). Lifejackets, tubes, toys or any other devices are not permitted on the slide.
---
Pool admission policy
Pay the posted admission fee before entering the pool deck area.
Any parents/guardians on the pool deck as spectators pay the regular admission fee due to lifeguard ratio requirements, whether they swim or not.
Parents/guardians in the pool gallery as spectators are not part of swim ratio and do not have to pay.
---
Medical conditions
Individuals with seizure disorders or other serious medical conditions should be accompanied by an individual knowledgeable of their condition and responsible who can provide immediate assistance if needed.
Children that pass the Facility Swim Test can swim on their own.
Strollers
Strollers are not permitted on our sanitized decks, except for the Outdoor Pool decks.
Swimming sober
Anyone under the influence of alcohol or illegal drugs will not be allowed into the facility and consumption of these substances is not permitted on the pool deck or in the facility.
Health and wellness
If you are sick or feeling unwell, please stay at home. Anyone displaying symptoms will not be admitted.
Do not visit the pool when ill, or have experienced diarrhea in the past week.
Prevent pool fouling. All swimmers are encouraged to visit the washroom before entering the pool.
Ensure children who are not toilet trained wear swim diapers made for swimming. These are available for purchase at the customer service desk.
Wear appropriate swimming attire that is different from the clothing worn to the facility.
Clothing should be light weight fabric and free from rips/tears, rivets, dangling strings, denim and zippers.
Bottoms must cover the buttocks area and must not be see-through.
Bring clean flip flops or sandals to wear on the pool deck. Street shoes are not permitted on the pool deck.
Bring your own reusable drinking containers. Only water in plastic bottles are permitted on the pool deck.
Showers
If possible, participants are encouraged to take a shower prior to visiting the pool to avoid having to rinse off prior to entering the pool.
First Aid
Staff will follow all revised CPR and First Aid treatment processes, as amended by the Lifesaving Society in our safety guidelines. On-deck First Aid treatment stations will be established for outdoor pools.
Swimming lessons
Spectators are asked to remain in the viewing areas.
Parents are permitted in the water for Parent and Tot lessons only.
Swimmers must bring their own goggles.
Equipment
Use of pool equipment will be at the discretion of the lifeguards.
Lifejackets will be available but participants are encouraged to bring their own. Equipment for lessons, Leadership and Waterfit classes will be available.
Swimmers must bring their own equipment such as goggles and towels.
Capacity
Each pool will have their own capacities depending on configuration.
Schedules
Schedules are subject to change and cancellations will be posted on site.
Lane swims
If a friend wants to swim in the same lane as me, can we swim together?
Sharing a lane with a friend is permitted, but please let the lifeguard know upon entering the pool and we will do our best to accommodate requests.
Lanes will not be put out for leisure swims.
If any swimmer needs to pass another, participants may pass one another when safe to do so.
Swimmers are asked to swim continually throughout the timeslots.
Short breaks (i.e. drinking water, adjusting goggles) are allowed in the pool.
Outdoor swimming
All outdoor pools are now closed for the season.
Outdoor pools close during thunderstorms and refunds will be issued as applicable. Rain days are non-refundable as our outdoor pools remain open.
We are committed to removing barriers to participation. Universal changerooms offer fully-accessible and barrier-free spaces that provide everyone with dignity and privacy. The changeroom design was developed through consultation with the public and is becoming the new standard in public access recreation facilities across Canada and abroad.
Benefits of universal changerooms
The universal changeroom design enables the following:
Creating an accessible space for community members of all ages, abilities and gender identities.
Greater accessibility and caregiver accommodation.
Families can stay together to assist with changing.
Access for school groups, daycare and summer camps to meet supervision requirements.
Improved monitoring and user safety.
Optimal use of space.
The universal changerooms are designed with safety and inclusiveness in mind. Features include:
Private change cubicles.
Open vestibule (no nudity) showers for patrons who are using the pools.
Private washroom stalls.
Accessible private change cubicles.
Lockers (includes full, half- and quarter-lockers), all of which are day-use only.
Baby change stations.
Adult change table located in the private accessible changeroom.
Rules for the universal changerooms
Patrons are required to remain clothed unless in a private change cubicle or bathroom stall.
No nudity is permitted in open areas.
All lockers within the universal changeroom are day-use only.
Photography and video recording are strictly prohibited.
Ensure that all personal belongings are secure at all times. The Town of Oakville is not responsible for lost, stolen, or damaged items.
Please report any suspicious activities to a staff member immediately.
Please be respectful of those around you and the facility.
Washroom stalls
Washroom stalls range from single-user spaces to larger ones that can facilitate adults with caregivers.
Common area amenities
The common areas include shared amenities such as lockers, rinse stations, sinks and counter space, mirrors, and wall-mounted hair dryers.
Shower etiquette
Exposed showers on the pool deck put a priority on pre-rinsing before swimming, a sustainability measure that keeps the pool water cleaner. The common areas (including showers) require clothing/swimming attire to be worn.
Changing etiquette
The private cubicles are for undressing. A variety of sizes of cubicles are available to accommodate individuals changing as well as multi-gender families and anyone needing support from a caregiver. Cubicles partitions have been designed for safety and privacy while open at the top to allow for appropriate air circulation.
Bringing a support person
Within a universal changeroom, swimmers can be assisted by a family member or support worker regardless of gender.
Entering the universal changeroom with someone who is of a different gender/sex
The universal changeroom is designed to allow for use by anyone regardless of gender. Private change cubicles, private showers, and washroom stalls are also available.
Change cubicles
A change cubicle is a private stall in which users can change their clothes. The private stall cubicles and washroom stalls can all be locked.
Acceptable attire when in the open spaces of the universal changeroom
Fully clothed or swimsuits (one or two-piece suits and swim trunks/board shorts).
The purpose of open showers
Rinsing with a swimsuit on is a requirement before entering the pool. Nudity is strictly prohibited here and a swimsuit must be worn.
Unacceptable attire when in the open spaces of the universal changeroom
Nudity or undergarments (boxers, briefs, fashion bra, and underwear) are unacceptable in open spaces.
Changeroom for people with limited mobility
The universal changeroom has change cubicles to accommodate people with limited mobility.
Visit our Registered Programs page for:
Creating an online account
Registration help
Missed classes and refunds
Browsing swimming lessons and aquatics programs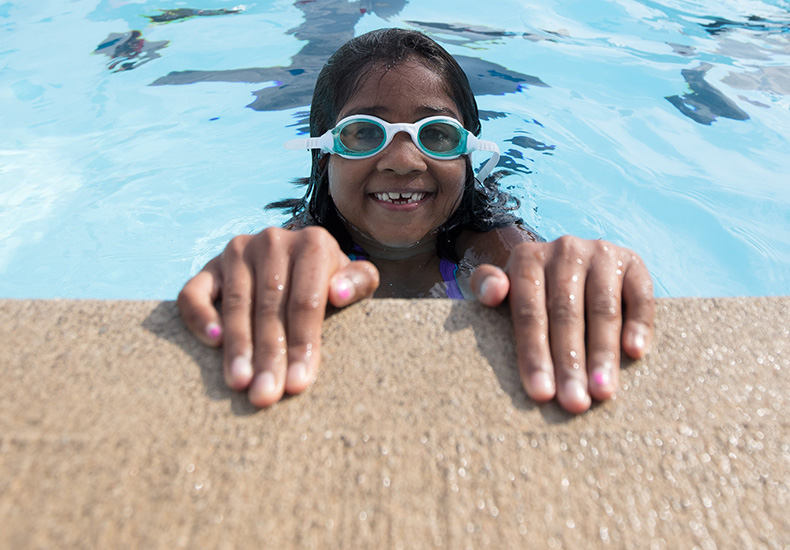 Customize your own schedule
Select your drop-in area of interest and then refine your search using filters by facility, day of the week, and more to find the program you're looking for.
Narrow down your results even further by entering keywords like "length swim" and then selecting the location, etc. before clicking on the search tool (magnifying glass). Results can be sorted by activity ("Event Type"), date or time. Choose the number of items you'd like to display and print your list as a landscape page for best results.
Need help?
For registration assistance Monday to Friday from 8:30 a.m. to 4:30 p.m., contact us:
905-815-2000
recreation@oakville.ca