Inclusion and support
We offer camps for children aged four to 12, including those who need one-on-one support. Due to their popularity, we recommend that you browse program offerings in advance and be prepared to register promptly when online registration opens.
Customers registering in an Inclusion Support camp do not need to process a second registration. You will be placed in your specific camp at the location of your choice upon completion of the intake meeting in June.
Our HIGH FIVE Principles of Healthy Child Development trained staff, high safety standards, and value-driven programming set us apart. All staff members are selected based on their experience and enthusiasm, and must have Emergency First Aid and complete a Police Screening Check.
School break camps
We offer camp during all Halton District School Board P.A. Days, as well as spring and winter holidays.
Age policy
Campers must be within the age range of the program by December 31 of the year the program is taken. There is one exception: Four-year-olds entering our programs must be the required age by the start of the program.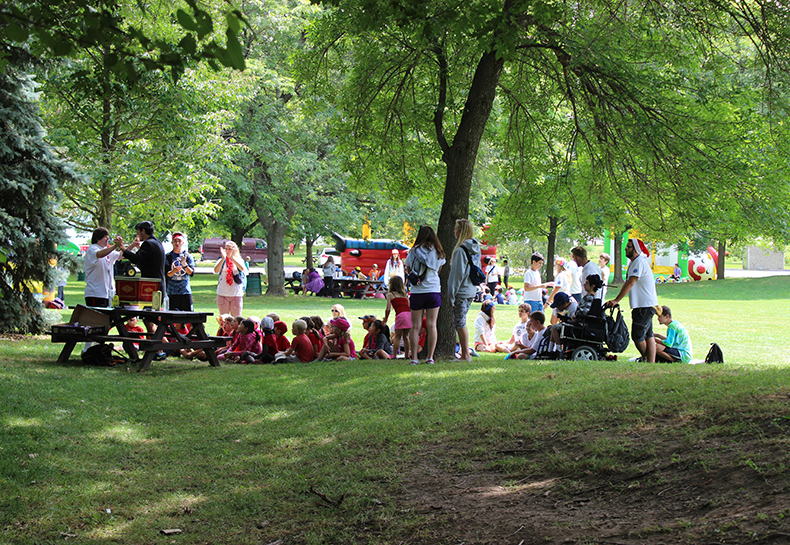 Registration and payment
Visit our Registration Help page for tips on how to get registered for camp.
Check the schedule payment box when you register online to pay 50 per cent up front for summer programs and simply confirm your pre-authorized payments for the balance. The remainder will be automatically deducted from your credit card in two equal payments on June 1 and July 1.
Questions? Contact registration staff at 905-815-2000.
Subsidies and fee assistance are available for Town of Oakville camps. Visit the Affordable Access page to find out how to apply for fee assistance.
Prepare for camp
Check out the Camp Handbook for details about program requirements, procedures, and more. Also, don't forget to check the schedules!
Camp hours
Camp hours are 8 a.m. to 5 p.m. daily. Campers are welcome to arrive anytime between 8 and 9 a.m. and can be picked up between 4 and 5 p.m.
Late pick-ups will be charged a fee. All campers must be picked up by 5 p.m. There are no extended care options this year.
Safe Arrival and Dismissal
Our safe arrival and dismissal process ensures that campers are only released into the care of their parent/guardian, or into the care of an individual designated by the parent/guardian.
Everyone who picks up a child from camp is required to show government issued photo identification (ID). Authorization/consent forms should have been completed at the time of registration.
Upon pick-up, parents will check-in with their photo identification at the sign-in table.
Leadership staff will be wearing staff shirts and/or photo ID badges. Signs will identify specific drop-off and pick-up locations.
When to play and when to stay away
When children show signs of illness, keep them home. This greatly reduces the spread of illness at camp. Please follow medical advice if you have been told by a doctor, health care provider, or public health unit that you should currently be staying home.
Participants should not attend camp if they have any of the following new or worsening symptoms or signs (that are not chronic or related to other known causes or conditions):
fever or chills
difficulty breathing or shortness of breath
cough, sore throat, trouble swallowing
runny nose/stuffy nose or nasal congestion
decrease or loss of smell or taste
nausea, vomiting, diarrhea, abdominal pain
not feeling well generally, extreme tiredness, sore muscles
A child may be sent home if coughing, sneezing, has a temperature, or any other signs of contagious illness or infection during the day. Children showing signs of illness must be picked up within one-hour. Please ensure your emergency contact can be on-site within that time frame.
Please check your child for lice before the start of camp.
Sun safety
Sunscreen should be brought daily and applied regularly. We encourage you to show your child how to apply their own sunscreen. Hats should also be worn every day. Please label your child's sunscreen.
EpiPens and Inhalers
Any child bringing an EpiPen or inhaler to camp must bring it in a separate fanny pack/case to be worn at all times. A Medical Consent form must be completed.
Allergies
Please ensure that all allergies are listed on your child's registration. This includes any seasonal, food, pharmaceutical, and other allergies (i.e. bee stings, bites, etc.).
Hand sanitizer will be used in our programs. Please be sure to list this as an allergy if your child has a contraindication to this product. For the safety of all campers, we do enforce a strict no food sharing and nut-free policy.
Medically fragile participants
Participants who require the use of medical equipment are welcome to attend programs, however program staff are not trained in this area. A support worker who will be responsible for the participant's medical needs must be provided by the family.
Please label everything and bring:
A nut-free litterless lunch, two snacks, and a refillable water bottle (no glass please) daily.
A hat and sunscreen (recommended for outdoor activities). Please help your camper practice applying sunscreen by themselves at home so they are ready for camp.
Closed-toe running shoes (recommended for all participants). Always dress for a mess.
A swimsuit and towel for camps offering a swim.
Specialty camps will require equipment specific to their programs:
Golf Programs – Participants are required to bring their own golf clubs to camp in a separate bag.
Hockey Programs – All participants in hockey programs must wear full hockey equipment while on the ice, including CSA-approved hockey helmet with full-face cage/shield, and a mouth and neck guard. Bring warm clothes as ice surface temperatures are much cooler than the rest of the facility.
Skating Programs – All participants must wear a CSA-approved hockey helmet and winter gloves while on the ice. Bicycle helmets are not permitted. Bring warm clothes as ice surface temperatures are much cooler than the rest of the facility.
Need help?
For registration assistance Monday to Friday from 8:30 a.m. to 4:30 p.m., contact us:
905-815-2000
recreation@oakville.ca