Schedules
Browse our drop-in program options and schedules.
You can register up to seven days in advance for recreation and culture drop-in programs. All scheduled drop-in programs offered can be viewed before registration opens.
Select your drop-in area of interest and then refine your search using filters by facility, day of the week, and more to find the program you're looking for.
Narrow down your results even further by entering keywords like "pickleball" or "length swim" and then selecting the location, etc. before clicking on the search tool (magnifying glass). Results can be sorted by activity ("Event Type"), date or time.
To print your customized schedule, choose the number of items you'd like to display and select landscape for best results.
Visit our YouTube channel for helpful tips on how to get registered.
If you do not have an email address or prefer to register over the phone, please call 905-815-2000.
To register online:
Sign in to your Recreation and Culture account and select the "Drop-in Programs" tab located on the top navigation bar to view all program options.
Drop-in programs are organized by activity. Use the filter options to narrow your search.
Once you have selected your activity type, you will see a list of options sorted by date with program name, time, location and fee. To select a drop-in program, click the "Register" button. Waitlist indicates that the activity is full. If you select Waitlist, you will be emailed if a spot opens up.
This will bring you to the course page for details including activity location, time, fees and even similar events you can enjoy. After reviewing the information, click "Register" to add to your cart.
You will need to select the family member you wish to register by checking the box next to their name and clicking "Next".
On this page, please ensure that the fee information is correct and click "Next".
When you are ready to check out, select your payment method. You can add a credit card or pay with your credit card on file. If you have a gift card, you can enter it now. Review that all information is correct and click "Place My Order".
Once your order is placed, you can add the drop-in program to your calendar, print your registration confirmation and more.
You will not be able to register for a workout in one of our fitness centres on the day. Just drop by the front desk at your preferred location and staff will be happy to check you in. If you prefer to pre-register, you can still book online up to the day before your desired workout.
You will not be able to register for a course that is full, but you can be added to the waitlist if the option is available.
If a spot opens for that activity or additional sessions are added, you will be contacted by email. If you do not respond within 48 hours, your spot will be offered to the next person on the waitlist.
Please call 905-815-2000 or email recreation@oakville.ca for information about courses for which you are waitlisted.
Single-visit swimming, skating and general activities
Admission fees:
$3.84 plus tax for seniors (65+) and youth
$4.80. plus tax for adults (18+)
$14.40 plus tax for a group of up to five people, including a minimum of one adult (18+)
Single-visit fitness
Individual admission for a workout in our fitness centres:
$9.55 plus tax for seniors (65+) and youth
$11.94 plus tax for adults (18+)
Single-visit rock climbing
The drop-in fee to use the rock climbing wall at Queen Elizabeth Park Community and Cultural Centre (QEPCCC) is $8.95 plus tax, or free with a Premium Fitness membership. A 10-visit pass is also available for $80.55 plus tax. All participants must complete the waiver form (pdf) before climbing.
Single-visit 50+ programs
Drop-ins for Seniors Services programs are $1 and an active Senior Services membership is required to register for 50+ programs.
Single-visit studio drop-ins
Admission for Parented, All Ages and Adult QEPCCC studio drop-ins is $10.15 plus tax per session. Studio members can access pre-booked drop-in sessions free of charge.
Admission for support persons
Personal support workers assisting individuals in a program are admitted at no charge and are not required to register. For more information, please speak to a Customer Service Representative at your local recreation and culture facility.
Save with a membership or 10-visit pass
Visit the Memberships page for details.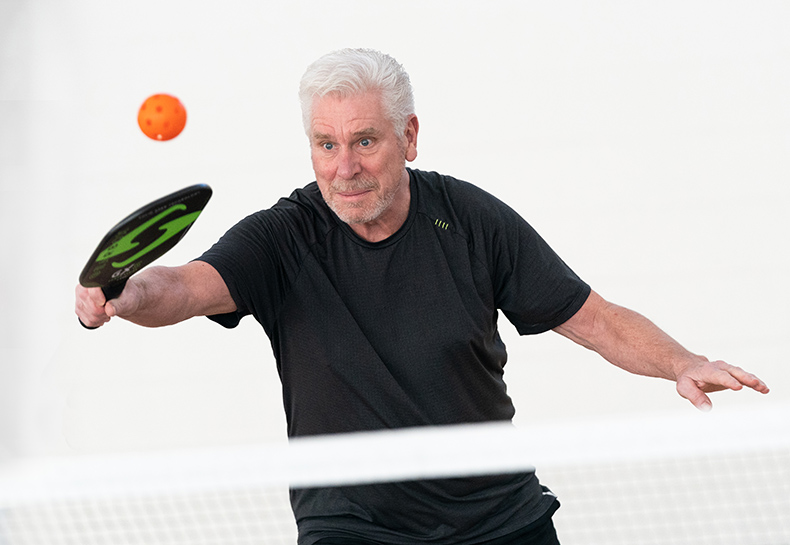 Drop-ins for pickleball practice
All levels are welcome at drop-ins, but it helps if you have played before.
Beginners: Consider a pickleball program that will help you learn how to play. Visit the Recreation Programs page to browse our options.
Seniors: Drop-in and registered pickleball programs for ages 50+ can be found under Seniors Services in our online registration system.
Need help?
For registration assistance Monday to Friday from 8:30 a.m. to 4:30 p.m., contact us:
905-815-2000
recreation@oakville.ca
Browse drop in programs
Spaces will be offered to those waiting 15 minutes after the program start time. Walk-ins welcome as space permits.