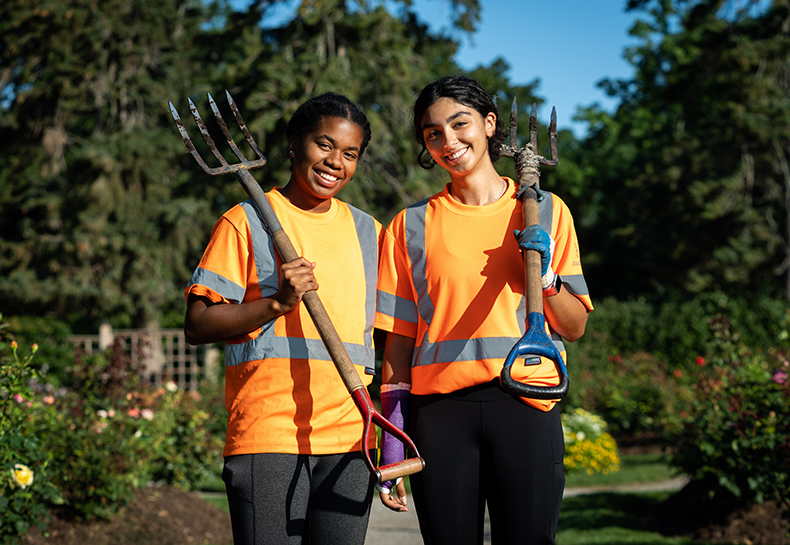 Thanks to the devastating effect of the Emerald Ash Borer (EAB) on our woodlands, most, if not all, of the Town of Oakville's woodland ash trees are now dead or dying.
In partnership with a consultant, BioForest Technologies Inc., we work with residents in the Urban Forest Health Monitoring program to monitor neighbourhood street trees for invasive insects, disease, and other issues related to forest health.
Volunteer while learning about the urban forest and our woodland renewal efforts.
Located at 1100 Cornwall Road, the Oakville Municipal Greenhouse and Conservatory is the perfect all-season setting for special occasion photographs, small wedding ceremonies, gardening seminars and group tours.
Greenhouse volunteers help our staff transplant and place trays of small plants in to designated areas, carry potted plants, and assist in the Door's Open event to show visitors around.
Volunteer opportunities with the Municipal Greenhouse are currently full. We are no longer accepting applications for the 2023 year.
Help keep our parklands and trails tidy. You or your organization can participate in a one-time clean-up or make your pledge to care for a specific park or trail year-round for a minimum two-year period.
With more than 340 active parks, playgrounds and sports fields; two harbours; and 280 woodland parks and trails, there are plenty of opportunities for citizens, schools, youth groups and corporations to get involved and lend a helping hand.
For more information visit the Park Ambassadors page.
There are no volunteer opportunities available in this area at this time. Please check back again later.
When needed, volunteers assist centre staff with recreation programs, equipment cleaning and occasional special events. Please call the centres directly for more information about how you can help.
The Recreation and Culture department operates six community centres:
Glen Abbey, 905-815-5950
Iroquois Ridge, 905-338-4255
Oakville Trafalgar, 905-338-4728
Queen Elizabeth Park (QEPCCC), 905-815-5979
River Oaks, 905-338-4186 and
Trafalgar Park, 905-338-4406
The Oakville Centre for the Performing Arts (OCPA) has launched a new volunteer program! We're looking for enthusiastic people with a passion for the performing arts to volunteer in our front of house positions. We currently have two volunteer roles available; usher and coat check attendant.
Volunteers must:
Have the ability to climb stairs and stand for an extended period of time
Make a commitment of three shifts per month
Be a minimum age of 16 years (volunteers under 18 require written parent consent)
Visit the OCPA website or use the Volunteer Opportunities Tool for more information.
The Oakville Museum preserves and interprets the town's history through the heritage and home of Oakville's founding family - the Chisholms.
Volunteers assist museum staff with school programs, workshops and special events. Visit the Support the Museum page for more information.
Aquatic volunteers (Pool Pals)
Aquatic volunteers provide support to swimming instructors on deck and in the water. They assist reluctant children, demonstrate skills, help with class control and provide one-on-one support for children with additional needs or additional needs classes, as well as helping with special events.
Pool Pal volunteers must:
For more information, please contact aquaticvolunteers@oakville.ca.
More volunteer opportunities will be offered when available. Please check back later, follow us on social media, or subscribe to the Recreation and Culture newsletter for updates.
Summer camp volunteers
Summer camp volunteers provide support to our day camp programs.
Volunteers must:
be at least 13 years old
successfully complete a Learn to Lead workshop (includes an interview and introduction to volunteering at summer camp)
For more information, please contact volunteersrecreation@oakville.ca.
One sure way to meet new people, have fun and use your skills is by volunteering at our seniors centres.
A wide variety of volunteer opportunities are available, including:
front desk reception
committee work
helping in the café and kitchen
greeting and driving participants in the Friendship Luncheon programs
cooking at the barbecues
helping arrange for guest speakers
We can always use your help! For more information, please contact or drop by your local Seniors Centre.
Culture Days
Support your local community and earn volunteer hours by helping out at the Queen Elizabeth Park Community & Cultural Centre.
Volunteers will greet visitors, provide directions to activity rooms, and assist with monitoring doors/attendance numbers. Email events@oakville.ca for more information.
Family Day
Support your local community and earn volunteer hours by helping out at the following locations:
Glen Abbey Community Centre
Iroquois Ridge Community Centre
Joshua's Creek Arenas
Queen Elizabeth Park Community & Cultural Centre
River Oaks Community Centre
Sixteen Mile Sports Complex
Trafalgar Park Community Centre
Volunteers will greet visitors, provide directions to activity rooms, and assist with monitoring doors/attendance numbers. There are also opportunities at some locations to volunteer in costume as a mascot! Email events@oakville.ca for more information.
Oakville Santa Claus Parade
The Oakville Santa Claus Parade is organized by a volunteer committee in partnership with the Town of Oakville and the business community. Committee volunteers work year-round in areas including sponsorship, promotion and organizing volunteers.
Adult volunteers assist the police and security officers at manned barricades during the parade. Marshals walk the parade to ensure steady movement.
For more information, please contact the volunteer coordinator at volunteers@oakvillesantaclausparade.ca.
Oakville Youth Action Committee (OYAC)
This program is a great way to gain valuable experience as well as complete your high school community service hours. Join us and help make an impact on youth services for you and your peers!
We want to hear from you!
Have a voice about our youth programs and events within Youth Services while collecting volunteer hours. Applications for OYAC will be accepted each September and meetings will occur once or twice per month throughout the school year.
For more information, email oakvilleyouth@oakville.ca.
Through its six branches, Oakville Public Library builds community by connecting people and ideas. With innovative programs for all ages, expansive collections of books, ever-growing digital media offerings and town-wide outreach endeavours, OPL is committed to community development and providing learning opportunities for all.
Visit the Oakville Public Library website for more information.